We are delighted to announce that we have recently become a registered retailer for SafeGuard Independent Jewellery Valuations.
SafeGuard is a highly respected leading independent personal valuation service, which is part of Anchorcert Group, home of the Assay Office Birmingham.
Your items will be assessed, gemstones graded and precious metals verified. You will receive a comprehensive valuation report, including a digital image on average within two weeks of the valuer receiving your items. Any complex items may require more time and we can advise you of the lead times for such items before they are dispatched. All this information is permanently stored by SafeGuard on a secured national database, helping clients who need a conclusive proof of ownership.
This information is kept in complete confidence and only released to your insurer with your permission.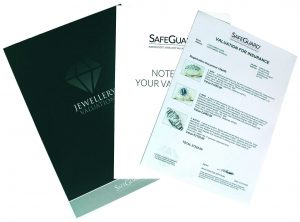 SafeGuard valuation reports are recognised by all major UK insurance companies and can be vital in the event of a claim, as they provide independently verified details of your item.
If you need any advice or have any enquiries please visit us in store or click here to book an appointment.